Prime Minister Nguyen Xuan Phuc cuts the bandwidth of technical vehicles for the construction of the southern intersection of Binh bridge
Prime Minister Nguyen Xuan Phuc cuts the bandwidth of technical vehicles for the construction of the southern intersection of Binh bridge
Prime Minister Nguyen Xuan Phuc cuts the bandwidth of technical vehicles for the construction of the southern intersection of Binh bridge
Prime Minister Nguyen Xuan Phuc cuts the bandwidth of technical vehicles for the construction of the southern intersection of Binh bridge
10:50 - 20/10/2020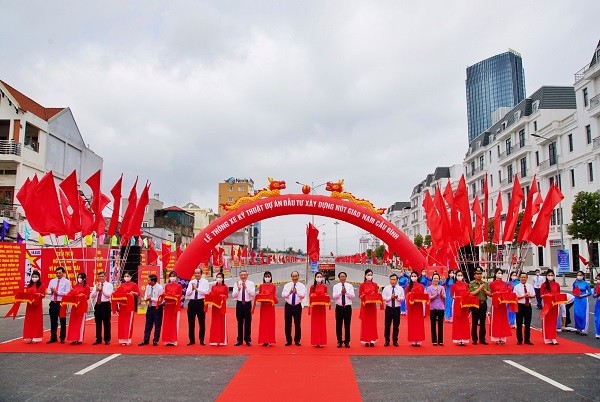 Prime Minister Nguyen Xuan Phuc and leaders of Hai Phong city cut the bus bandwidth of investment project to build the intersection south of Binh bridge
Technical traffic information Construction investment project of the intersection south of Binh bridge
The construction project of the Binh Bridge South Intersection was started on September 2, 2018, after more than 20 months of urgent construction, the project of Binh Bridge South Intersection with a total investment of VND 1,482.6 billion has been clear the car.
Speaking at the ceremony, Mr. Nguyen Van Tung, Chairman of Hai Phong City People's Committee affirmed that over the past years, Hai Phong city has had many large domestic and foreign enterprises investing in the city with projects with large scale, making the mechanical population increase rapidly, so it has a great impact on the inner city traffic system.
In this situation, the city has used the source of fees for the use of seaport infrastructure to invest in the construction of many traffic infrastructure works, including the investment project to build the intersection of Binh Bridge South - intersection has the largest and most modern scale in Hai Phong. This is an intersection with 3 stereoscopic floors with 5 branches overpass and 1 tunnel, with a total length of the tunnel and the overpass is nearly 2km. This is also the first and largest underground railway tunnel in Hai Phong city, with a length of 370m.
The complex of stereoscopic intersections completed by the south of Binh bridge contributes to improving traffic conditions, improving the capacity of Binh bridge to operate, creating favorable conditions for regional connectivity with National Highway 5, National Road. Highway 10 and urban area north of Cam river. At the same time, step by step complete the city traffic network according to the plan, creating a premise for investment in developing a spacious and modern urban center of Hai Phong to ensure sustainable development and reduce congestion and traffic accident.
"To connect with this intersection, on the occasion of May 13, 2020, the city will start building more roads connecting Ton Duc Thang street, Mang Nuoc road - An Duong district to exploit land funds. area south of Re river. The completion of this intersection has great significance in the city's socio-economic development, minimizing traffic congestion and accidents ", Mr. Tung added.
Traffic Development Project of Hai Phong City Urban Traffic
Hai Phong City Urban Transport Development Project was started in December 2013, with a total investment of US $ 251,550 million. In which, ODA capital is 175,094 million USD, reciprocal capital (local budget) is 76,457 million USD.
Over the past six years of construction, the urban trunk road of Bac Son - Nam Hai has been officially completed, forming a direct connection, reducing traffic time between the East of the city ( Hai An district) with the area west of the city (An Duong district); increase connectivity between inner districts (Kien An, Le Chan, Ngo Quyen), reduce travel time from districts of Vinh Bao, Tien Lang, An Lao to the city center. At the same time, contributing to enhancing the connection (especially freight transport) between Hai Phong city and the Northern Delta region, as in the spirit of Politburo's Resolution No. 45-NQ / TW on construction and development Hai Phong city development to 2030, with a vision to 2045.
Speaking at the ceremony, Mr. Nguyen Xuan Binh, Permanent Vice Chairman of Hai Phong City People's Committee thanked the governments of Vietnam and Japan and the close and effective cooperation of World Bank.
"World Bank's cooperation with Hai Phong has strongly and firmly demonstrated the spirit of responsible work, and hopefully in the future, that good cooperation relationship will continue to be confirmed and developed. development. You can completely find in the Party Committee, authority and people of Hai Phong city a reliable, effective and responsible partner to implement the projects ", Mr. Binh emphasized.
The project includes 3 components, Component A - Urban trunk development is implemented in districts: An Duong, Kien An, Le Chan, Ngo Quyen, Hai An. This component will improve travel conditions in urban areas and transportation of goods from other provinces to and from Hai Phong port system. Including construction of a road connecting East - West from Bac Son to Nam Hai with a length of 19.8 km; to renovate Cau Niem 1 bridge and upgrade Truong Chinh road. Component B is improving public transport: implemented in districts such as Hong Bang, Le Chan, Kien An, An Lao, Vinh Bao and Tien Lang districts. Component C - Institutional capacity building and human resource development.
"This is a very meaningful project, helping to clear the East-West axis of the city. With this road, the city has the opportunity to arrange traffic so that transport vehicles from Hai Phong Port may not have to pass through the city center, creating an effective trade connection; on the other hand, it contributes to reducing the traffic congestion in the urban area, reducing traffic accidents, making an important contribution to the improvement of the urban landscape of Hai Phong city ", Mr. Binh affirmed at the ceremony.
(From baodautu.vn: https://baodautu.vn/thu-tuong-nguyen-xuan-phuc-cat-bang-thong-xe-ky-thuat-du-an-dau-tu-xay-dung-nut-giao-nam-cau-binh-d121319.html)
Share: